Author of soil books to speak in Sarnia
Posted: Friday, October 20, 2017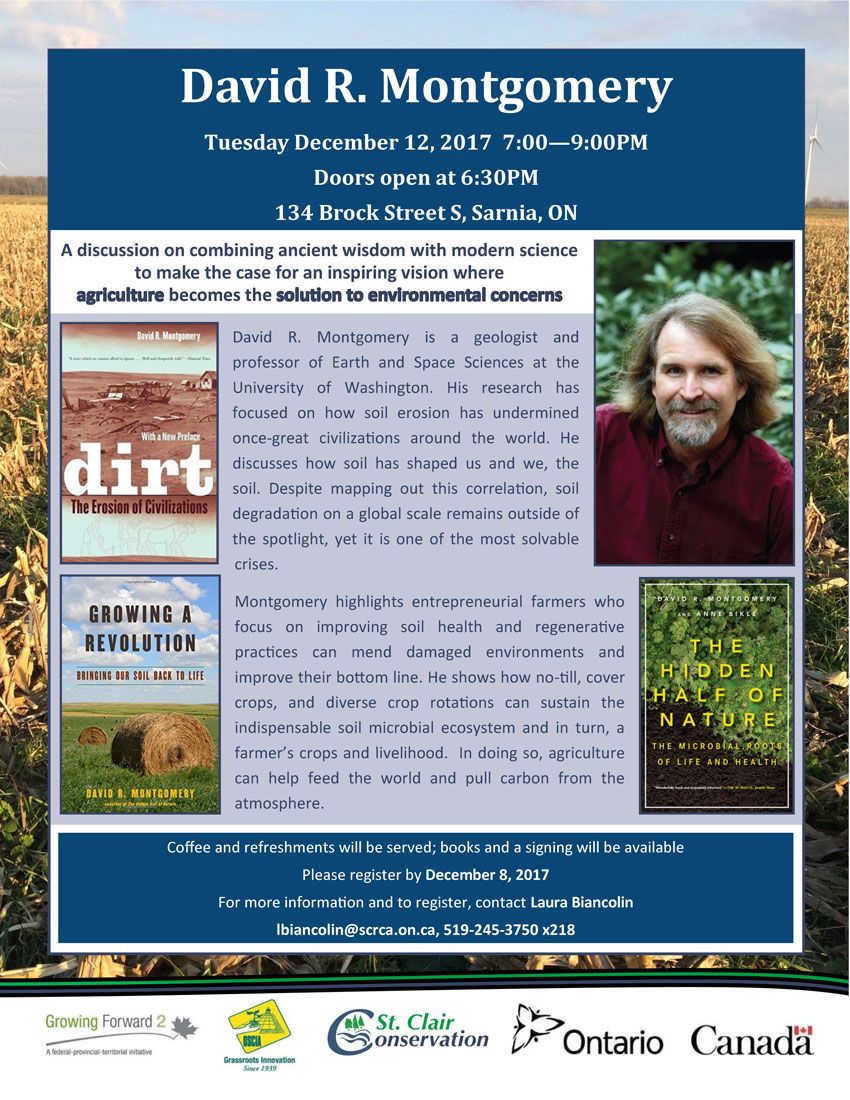 The author of Dirt: The Erosion of Civilizations and Growing a Revolution: Bringing Our Soil Back to Life is guest speaker at an event in Sarnia on Tuesday, December 12, 2017 from 7 p.m. to 9 p.m.
David R. Montgomery is a geologist and professor of Earth and Space Sciences at the University of Washington. His research focuses on how soil erosion has negatively impacted civilizations around the world.
The event hosts say Montgomery will discuss "how soil has shaped us and how we have shaped the soil." Organizers say soil degradation is outside of the public spotlight but it is a crisis on a global scale. They also say it is a global problem that can be addressed by positive action now.
There is no cost to attend this event but you are asked to please register by December 8, 2017. To register or to find out more contact Laura Biancolin at 519-245-3750, extension 218 or email lbiancolin@scrca.on.ca. Doors open at 6:30 p.m. and the talk takes place at 134 Brock Street South, Sarnia, Ontario, Canada.
Coffee and light refreshments will be served. Books will be available for purchase and an opportunity for the author to sign books is to take place.
This event is expected to be of particular interest to farmers, horticulture groups and gardeners as well as other members of the public.
Montgomery is to highlight entrepreneurial farmers who focus on improving soil health and regenerative practices. He said it is possible for an agricultural producer to improve their bottom line while mending damaged environments. He shows how no-till, cover crops, and diverse crop rotations can sustain the indispensable soil microbial ecosystem. This, in turn, protects a farmer's crops and livelihood, according to Montgomery. Through actions such as these, the agriculture sector can help to feed the world and pull carbon from the atmosphere at the same time.
A poster for the event says it will be "a discussion on combining ancient wisdom with modern science" and it will make a case for "an inspiring vision" where the agriculture sector can provide a key to addressing a number of soil health and water quality concerns and issues.
The December 12 event is hosted by St. Clair Region Conservation Authority and partners with generous support of the federal-provincial-territorial Growing Forward 2 initiative and the Ontario Soil and Crop Improvement Association (OSCIA).
To learn more about Montgomery and his books you may visit his website at: dig2grow.com
When?
Tuesday, December 12, 2017 from 7 p.m. to 9 p.m. Doors open at 6:30 p.m.
Where?
134 Brock Street South, Sarnia, Ontario, Canada
RSVP by?
December 8, 2017
Who do you contact to register?
Laura Biancolin, St. Clair Region Conservation Authority, 519-245-3750 or 519-245-3710, extension 218.